Forex Forum to Share, Discuss, Communicate and Trade Forex
The leading forum for Forex traders to discuss Forex information and opinions. Share to lead is the motto of this FX community.
Here you may discuss about your Forex Broker and post your views and reviews about them.

Now brokers extend the method to deposit and withdraw funds to facilitate traders to make a deposit or withdrawal. as in TICKMILL shown in the following figure:
[center]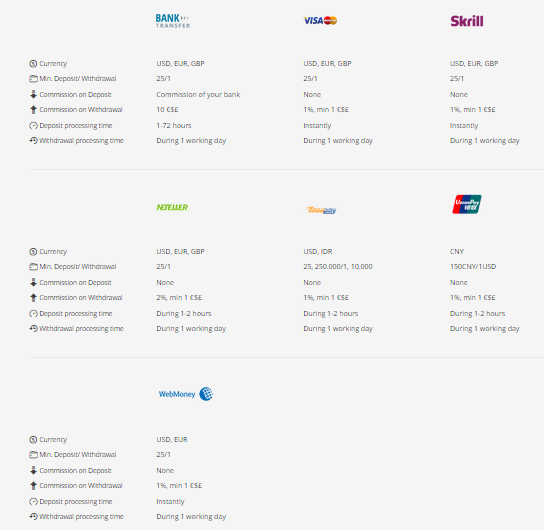 [/center]
Please note, we only execute withdrawals to the account or payment solution that was originally used for funding.
If funds were added using both a Credit/Debit Card and any other deposit method, a withdrawal will first be processed back to the Credit/Debit Card and only after that to the respective account or payment solution.

Example: You deposited $100 via Neteller, $100 via FasaPay and $50 via Credit Card. Requesting a withdrawal of $120, you will get $50 to your Credit Card and the rest $70 to the e-wallet of your choice: Neteller or FasaPay.
Become IB of Tickmill
Posts: 527
Joined: Mon Apr 01, 2013 12:59 pm
Location: Become IB of Tickmill - ( $6 per lot on a Classic and $2 per lot on ECN Pro and VIP accounts )
---
Who is online on Forum
Registered users: Alexa [Bot], Amelia Elizabeth, Baidu [Spider], Bing [Bot], Google [Bot], Google Adsense [Bot], Majestic-12 [Bot], MikhailLF, riki143, SuperForex, TifiaFX, Yahoo [Bot]