Forex Forum to Share, Discuss, Communicate and Trade Forex
The leading forum for Forex traders to discuss Forex information and opinions. Share to lead is the motto of this FX community.
Forum for free advertisements related to Forex, commodities and stock trading and investing.

PAYEER® MasterCard Platinum, e-Wallet, Merchant, Bitcoin Exchange.
Welcome to PAYEER, your convenient,secure and easy way to make and receive payments across the world.
1. Payeer® e-Wallet
You can send money all over the world (223 countries) just for 0.95% fee, or receive money from millions of PAYEER users for 0%.
2. Payeer® Merchant
Connect your site to Payeer and start accept payments right now!*
* - Users can add funds to e-Wallet by VISA, MasterCard, Wire, Sepa, Bitcoin, Okpay, Paxum, Qiwi, BTC-e.
3. Payeer® MasterCard Platinum
You can order your Platinum MasterCard now!
0% ATM fee, 0% POS fee.
This card works in 200+ countries
4. Payeer® MasterCard Platinum for Business
You can order from 1 to 1.000.000 cards for your business with your logo and design!
5. Payeer® Mass Payments
Mass payments to VISA, MasterCard, Wire, Sepa, Payeer.
URL: PAYEER.COM

I'm ready to answer any questions about the Payeer.
Posts: 2
Joined: Wed Mar 23, 2016 9:50 pm
---
I receive a lot of questions like this: What is the difference between Payeer and other payment systems? So I decided to place this table, in which you can find an answer to this questions.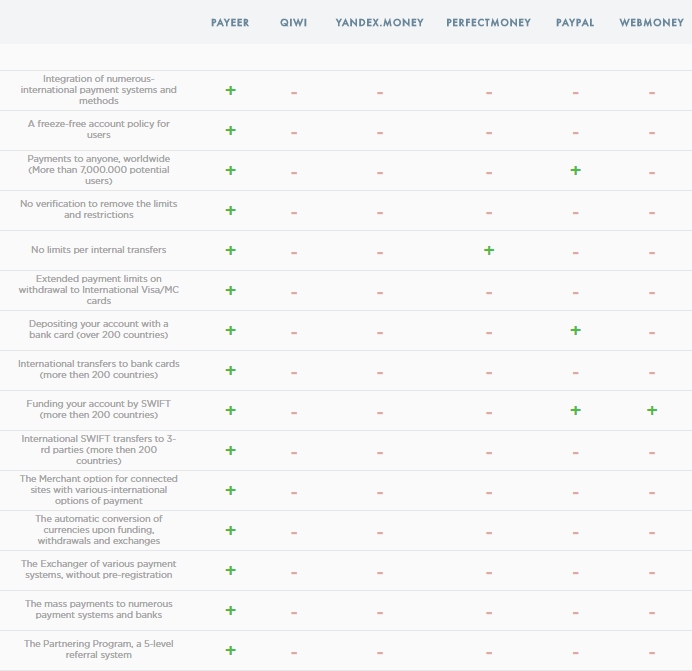 Posts: 2
Joined: Wed Mar 23, 2016 9:50 pm
---
---
Who is online on Forum
Registered users: Andrea ForexMart, Baidu [Spider], Bing [Bot], Google [Bot], Google Adsense [Bot], Sininfinity, Yahoo [Bot]