Forex Forum to Share, Discuss, Communicate and Trade Forex
The leading forum for Forex traders to discuss Forex information and opinions. Share to lead is the motto of this FX community.
These forums for various Forex brokers are for any new announcements from them. But if you have any pains in dealing with them then please speak up. It's always possible that the house-doctor of the concerned doctor comes out with the right pain killer.

InstaForex – sponsor of Marussia F1 Team in Moscow City Racing 2013
InstaForex has become an official sponsor of Marussia F1 Team in the Russia's largest automotive show Moscow City Racing that took place in the heart of Russian capital July 20-21, 2013. The debutant at F1 Max Chilton took part in the demonstration run in front of the Kremlin.
On July 19, InstaForex and Marussia F1 Team held a press conference at the RIA Novosti press center that gathered representatives of the major national and international sports media. Thus, most actively participated such sport news agencies as R-Sport, championat.com, sports.ru and international newspaper The Financial Times.
During the press conference, Marussia F1 Team CEO Andy Webb highlighted that the team bears a considerable likeness to InstaForex broker in the number of employees and development strategies. Meanwhile, InstaForex Director of International Affairs Ekaterina Pobedinskaya appreciated the mutual cooperation and voiced the hope that the participation ofMarussia F1 Team in Moscow City Racing sponsored by the broker will be the cornerstone of its future development.
As for Moscow City Racing, the show was a great success with spectators over 300,000. One of the world's biggest auto shows was an excellent start for a young driver in particular and Anglo-Russian team on the whole so that to meet their fans and show their brilliant performance. A huge number of people witnessed an outstanding show of Max Chilton and other titled racers. Some of them were lucky to have the paddock pass. The visitors of Marussia F1 Team's paddock had a matchless opportunity to meet the driver and mechanics, get autographs, take photos of the car and racers.
The cooperation with Marussia F1 Team enabled InstaForex TV journalists to enter the holy of holies – the team's paddock, where Max Chilton gave an exclusive interview while preparing for the show. Moreover, the broker's representatives were allowed to get inside the car; they understood what it is like to be an F1 driver.
InstaForex and Marussia F1 Team are glad to have taken part in an annual event in the racing world that contributes to the promotion of interest in the F1 championship. We sincerely hope that Marussia's participation in Moscow City Racing will become regular.
To learn more about the participation of Marussia F1 Team in the past event and view detailed audio and video reports, please go to InstaForex official website.
InstaForex — united we win!
Open Account: Real / Demo
http://www.instaforex.com/
Posts: 1080
Joined: Sat Aug 30, 2014 3:24 pm
---
Instaforex: be victorious now and always!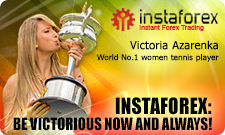 ​Instaforex announced a partnership with 2012 WTA world #1 and two-time Grand Slam Champion, Victoria Azarenka today. The partnership is a landmark announcement for InstaForex, a brand seeking to align with Azarenka as the leader an elite sport and symbol of modern tennis.
Azarenka was identified as the perfect fit for InstaForex after a stellar 2012 season where she captured her first Grand Slam title at the Australian Open, won two Olympic medals for her native Belarus, and finished the year as the WTA world #1. Building on her momentum from last season, Azarenka's career is only continuing to grow in 2013, adding a second Grand Slam title to her repertoire in Australia and going on a 17-0 winning streak.
In addition to her on-court accomplishments, Azarenka's determination, winning attitude, and ability to deal with pressure align perfectly with the values of success-driven InstaForex traders.
You can watch the video interview with Victoria on her web page on the company's site, where she shares the secrets of her success: how to develop the winning attitude, deal with pressure, solve complicated tasks, and how to overcome the defeat.
Root for Victoria Azarenka; trade with InstaForex!
Open Account: Real / Demo
http://www.instaforex.com/
Posts: 1080
Joined: Sat Aug 30, 2014 3:24 pm
---
Options trading. Now available for demo accounts
We would like to bring to your attention a new feature available to every InstaForex demo account owner which gained importance recently – options trading. Now you can appreciate all the advantages of Forex options trading in full by opening a demo account on InstaForex-Demo.com or InstaForex-Contest.com* servers.
You can try out options trading in InstaForex Demo Account Cabinet. Moreover, you will get the access to the widest range of the trading instruments and master the Forex options trading strategies without risking your own money.
Gain invaluable experience trading demo!
Options trading is a golden opportunity to reduce the risks and increase profits by means of your flexibility and versatility. If you thought options trading was too complicated, now you can learn how to make use of it on your demo account!
InstaForex does not cease to make the trading terms more convenient. Benefit from options trading right now!
InstaForex – yet more profitable decisions for clients.
*service is available only for the demo accounts that do not participate in the company's contests and campaigns.
Open Account: Real / Demo
http://www.instaforex.com/
Posts: 1080
Joined: Sat Aug 30, 2014 3:24 pm
---
Beauty contest Miss Insta Asia 2015
InstaForex is glad to announce the start of the sixth annual online beauty contest Miss Insta Asia 2015. The new season will start on October 1, 2014. This date was chosen not accidentally. Throughout the history of the competition, this date was crucial for contestants as results of Miss Insta Asia were summed up. The extraordinary and fascinating online contest Miss Insta Asia became even more popular during its existence. Participants from all over the globe declare their elegance, beauty and grace.
Connoisseurs of beauty will see even more charming ladies from different countries: Indonesia, Malaysia, the Philippines, Iceland, the UK, the US, Russia, Ukraine, Latvia, Iran, India, and China. Dive into the world of beauty. Vote for one or several contestants you like most! The format, terms and rules of the online beauty contest are the same. The victory and prize pool of $45,000 will be shared between Miss Insta Asia, two Vice Misses, Forex Lady, and Insta Choice. The most beautiful ladies will be determined by the results of an open online voting. Note that InstaForex traders have a privileged vote. Maybe it will be you to determine the distribution of places for the most gorgeous contestants of Miss Insta Asia 2015.
If you want to take part in the sixth season of the contest and jostle for the title of Miss Insta Asia 2015 or if you want to influence the current rating of the contestants, welcome to miss-instaforex-asia.com.
Stunning victory with InstaForex!
https://www.instaforex.com/beauty_contest_instaforex.php
Open Account: Real / Demo
http://www.instaforex.com/
Posts: 1080
Joined: Sat Aug 30, 2014 3:24 pm
---
Happy Eid al-Adha!
Dear clients, accept our heartily congratulations on Eid al-Adha! InstaForex team congratulates Muslims all over the world on the occasion of sacred holiday Eid al-Adha!
Also called Feast of the Sacrifice, this holiday is one of the milestone events, according to Muslim religion as it honors unshakable faith, unites people, and calls for humanity and respect.
May this day bring you good news, may your faith be strong and heart full of love and Islamic true values, faith, sincerity, humility, and modesty, serve you as true support! We wish you splendid health, peace, and wealth! Let Eid al-Adha fulfill your home with happiness and light and your hearts, with love and mercy! May your prayers be heard and bring you peace of mind, conciliation, welfare, happiness, and good luck in any way!
Happy Eid al-Adha! May you enjoy a blessed Eid al-Adha!
Open Account: Real / Demo
http://www.instaforex.com/
Posts: 1080
Joined: Sat Aug 30, 2014 3:24 pm
---
InstaForex invites everyone to ShowFx World conference in Riga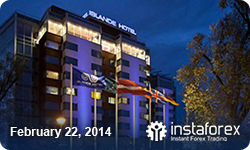 InstaForex invites all its customers and partners to take part in finance and investment conference that will take place in Latvia's capital Riga on February 22, 2014.
The second annual Forex conference in Riga will focus on the global financial markets. Its visitors and participants will meet representatives of the largest brokerages, banks, educational projects as well as experts and professional traders.
The venue of the upcoming ShowFx World conference is luxurious Islande Hotel at Kipsalas iela 20, Riga, LV-1048, Latvia. The attendees are welcome from 10:00 to 18:00.
InstaForex is traditionally going to have its booth. You will be greeted by a group of the company's specialists. All of them will be engaged in both business and entertainment activities.
The ShowFx conference in Riga is an amazing chance to exchange experience with other traders and get to know other Forex brokers.
Registration is now open!
Open Account: Real / Demo
http://www.instaforex.com/
Posts: 1080
Joined: Sat Aug 30, 2014 3:24 pm
---
InstaForex raffled new Lotus Evora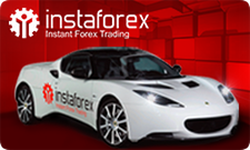 Recently, the so-called Lotus number has been fixed. Now we know the name of the lucky owner of the Lotus Evora sports car by the legendary British manufacturer Lotus Cars.
The Lotus number logged on June 27 at 23:59 (GMT+2) was closest to the account number with InstaForex of Aleksey Vybornov from Moscow, Russia. After the necessary examinations and checks, Aleksey was named as a winner of the Sports Lotus is Your Trade Bonus campaign. The title holder could choose between the sports car and the money. Aleksey opted for the prize money.
InstaForex warmly congratulates Aleksey on his victory in a two-year campaign and wishes him luck, further record-breaking wins of InstaForex contests and campaigns, and fruitful forex trading. Pretty soon, you will have a chance to watch the video interview with the winner of Sports Lotus is Your Trade Bonus. Stay tuned to our news updates.
As for the rest contestants of Sports Lotus is Your Trade Bonus, they should never give up. Keep on trying and chance your luck at no less exiting campaign - Sport Style: Porsche Cayman from InstaForex with the total prize pool of over $500,000. InstaForex creates an opening for each its client not only to win the premium class car, but also to get a slice of that pie.
Take part and win InstaForex contests and campaigns!
Open Account: Real / Demo
http://www.instaforex.com/
Posts: 1080
Joined: Sat Aug 30, 2014 3:24 pm
---
Reduction in the Swedish krona spreads

InstaForex announces a considerable reduction in spreads of currency pairs with the Swedish krona as part of a constant work on optimization of trading terms and due to external market factors. There is a reduction in virtually every trading instrument with this currency.
Below is the list of new spreads in pips with old values in parentheses:
USD/SEK - 35 (70)
AUD/SEK - 50 (100)
CHF/SEK - 60 (100)
EUR/SEK - 60 (200)
GBP/SEK - 120 (250)
New spreads come into effect September 9, 2014.
Please pay attention to these changes and adjust your trading strategy if necessary.
Open Account: Real / Demo
http://www.instaforex.com/
Posts: 1080
Joined: Sat Aug 30, 2014 3:24 pm
---
Currency pair swaps to be changed
​
As a number of national banks have changed their interest rates, and as InstaForex prioritizes optimization of the trading terms, we inform our customers that new swaps are to be effective for some currency pairs since September 15, 2014.
You can find the list of the new swaps at the Specifications page on the company main website.
We would like to remind you that the swaps are changed regularly as we bring the trading terms in compliance with external market factors. Please adjust your trading strategies to these changes if necessary.
If you have any questions, please feel free to email us at support@mail.instaforex.com.
Open Account: Real / Demo
http://www.instaforex.com/
Posts: 1080
Joined: Sat Aug 30, 2014 3:24 pm
---
55% InstaForex bonus
InstaForex customers can take the opportunity of a fascinating offer, the 55% Bonus to every deposit, regardless of the date of the trading account opening.
Every time you top up your trading account, you can increase your deposit by more than 1.5 times.
The 55% Bonus by InstaForex has no limits on the maximum and minimum amount and is credited to every deposit irrespective whether the deal was profitable or not.
To obtain the 55% Bonus:https://www.instaforex.com/55bonus.php
Open Account: Real / Demo
http://www.instaforex.com/
Posts: 1080
Joined: Sat Aug 30, 2014 3:24 pm
---
---
Return to Forums for Forex Brokers
Who is online on Forum
Registered users: Alexa [Bot], Amelia Elizabeth, Baidu [Spider], Bing [Bot], Google [Bot], Google Adsense [Bot], Majestic-12 [Bot], MikhailLF, riki143, SuperForex, TifiaFX, Yahoo [Bot]