Forex Forum to Share, Discuss, Communicate and Trade Forex
The leading forum for Forex traders to discuss Forex information and opinions. Share to lead is the motto of this FX community.
These forums for various Forex brokers are for any new announcements from them. But if you have any pains in dealing with them then please speak up. It's always possible that the house-doctor of the concerned doctor comes out with the right pain killer.

Hello forumers!
I am Kerstin, a representative of the InstaForex Companу on this topic. I would love to hear comments, opinions and suggestions regarding our services that would certainly help us to develop and improve on this business. Please don't hesitate to ask questions, as I and my colleagues will be glad to assist everybody. Rest assured that any questions will be answered on the best way we can. Happy trading!
Posts: 7
Joined: Tue Sep 25, 2012 10:29 am
---
About the Company
-Acclaimed as the Best broker in Asia by the World Finance
-Different Account Types
-Wide range of leverage from 1:1 to 1:1000
-Exciting contests, promos and campaigns with annual prize fund of more than 500,000USD
- Forex Market News Section and
Insta

-TV
Forex News Videos
-Fresh Forex analytic
-Offers Welcome Bonuses (up to 5000 USD)
-Segregated Accounts and Affiliate Programs
- Forex Learning Course for beginners
-Money Management Services
PAMM Accounts
ForexCopy System
InstaWallet System
Forex Options
Learn more - visit the main site: instaforex.com
Posts: 7
Joined: Tue Sep 25, 2012 10:29 am
---
Lottery of Modern Devices: the Winner Determined
Insta

Forex
Company continues to make surprises to its clients offering a great variety of contests and campaigns, making their trading qualitative and joyful. The campaign Trade Wise, Win Device provides every customer of the company with the opportunity to become the owner of a modern device: iPad, iPhone, Blackberry and Samsung Galaxy Tab.
According to the results of the last contest step luck was on the side of Alexandr Buzunov, trading account number 5087955. The successful trader visited the company's office in Moscow and received a desired prize - iPad.
Our congratulations to the winner one more time! And do not forget that every customer of
Insta

Forex
Company has a chance to win a mobile device, just enroll in the contest on its official page. The devices are raffled once in two weeks, and the winners are determined with the help of a transparent mechanism of forming a so-called Device number.
Register in the campaign and next time you can try walking in the winner's shoes!
Learn more about InstaForex Company at http://instaforex.com
Posts: 78
Joined: Sat Sep 29, 2012 4:28 am
---
Join the world of beauty with InstaForex!
Insta

Forex
Company is happy to announce the beginning of the new fourth season of Miss Insta Asia 2013 beauty contest! The unique campaign, which will start on October 1, 2012, welcomes even more ladies from different parts of the world. In October, 2013, six most gorgeous ladies will enjoy the victory and share the prize pool of $40,000 at the end of open Internet voting.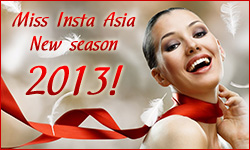 The destiny of the beauties depends only on the votes of visitors, who assess their photos and portfolios.
Insta

Forex
clients are privileged to influence ladies' rating as their votes' value is proportional to their accounts' balance.
You can register for Miss Insta Asia 2013 or vote for the ladies on official website miss-instaforex-asia.com.
Take part in the contest and maybe you will be lucky to get the title of Miss Insta Asia 2013 and the grand prize of $20,000!
Posts: 7
Joined: Tue Sep 25, 2012 10:29 am
---
How can you judge that InstaForex is Best Broker In Asia ?
Posts: 25
Joined: Tue Mar 06, 2012 2:50 pm
---
InstaForex Company Work Schedule for Christmas and New Year Holiday Period
We would like to draw your attention to InstaForex Company work schedule during Christmas and New Year holidays so that you could plan your trading time according to it.

On December 24, 2012 the market will close at 20:00 (UTC + 03). December 25 is a non-working day. On December 26 the market will open at 09:00. The Client Support department will start working from the same time as well.

The market will close on December 31, 2012 at 20:00. Client Support will be unavailable as well. January 1, 2013 is a non-working day. The market will open again on January 2 at 09:00. From this time all the departments of the company will start working as usual.

In addition, please note that opening orders on exotic currency pairs (Forex Crosses 4 and Forex Crosses 5) will be unavailable from December 24, 2012 to January 4, 2013, but there will be no restrictions to close orders.

All the other trading conditions of InstaForex Company remain unchanged.
Posts: 7
Joined: Tue Sep 25, 2012 10:29 am
---
InstaForex Participated in ShowFx World Expo in Kiev
ShowFx World financial exposition took place on November 17-18, 2012.
Insta
Forex
Company was the title partner and the participant of this event. Exhibition in Kiev  proved to be a great chance for introduction of company's services and  offers as well as it gave an opportunity to meet potential and current  clients.
The guests were very interested in company's booth and asked many  questions about innovative broker's services, bonuses and ways of funds  replenishment and withdrawal. Every visitor received
Insta
Forex
Club card which enables to accumulate bonuses up to 40% for every replenishment.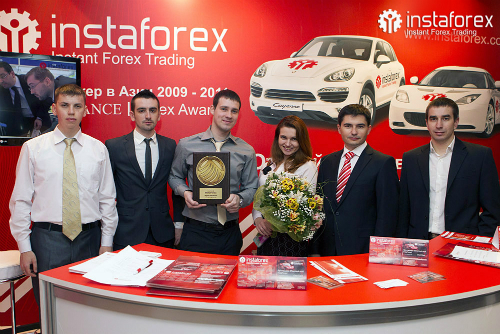 Official program was accompanied by the performances of well-known  specialists in the field of market analysis. The guests readily  participated in discussions of speakers' reports.
All the visitors enjoyed the solemn award ceremony of Miss Insta Asia 2012 finalists. Ekaterina Nagornaya was chosen as the most beautiful lady and got the crown together with $20,000 prize money. Five other winners  shared the rest of the prize pool.
As a part of exhibition,
Insta
Forex
raffled off valuable prizes and bonus accounts. Some of the guests were  lucky to get three $500 bonus certificates, and fancy mobile devices  such as iPad, iPhone, and Samsung Galaxy Ace 2.
Insta
Forex
Company expresses its appreciation to ShowFx World administration for  high-level organization of exhibition in Kiev and also thanks all the visitors for their attention and participation in promo campaigns.
Insta
Forex
hopes to see you again at the next financial event!
Posts: 1
Joined: Mon Dec 03, 2012 8:07 am
---
ritesh wrote:How can you judge that InstaForex is Best Broker In Asia ?
Hello,
Better that you visit this link to get the details why we're chosen to be the Best Broker in Asia. instaforex.com/awards.php
Posts: 7
Joined: Tue Sep 25, 2012 10:29 am
---
InstaForex Great Race 2013 Coming Soon

Insta

Forex
Company is happy to announce the start of a new season of InstaForex Great Race, the contest among demo accounts. It is interesting for traders who want both to improve their skills and to get real money from demo trading.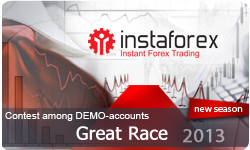 For the five-year history of InstaForex Great Race, tens thousands of traders have registered for the competition. Isn't it the sheer proof of contest's popularity? In the fifth season of InstaForex Great Race, the total prize pool reached $55,000. Be ready to get a piece of this pie! Hurry up to register and become a candidate for a part of the prize pool. The registration for the first step will last from December 10, 2012 to February 1, 2013.
Participate in InstaForex Great Race 2013, raise your professional level and earn money at no risk! Register for the new season of InstaForex Great Race 2013 right now!
Take part in InstaForex contests!
Posts: 7
Joined: Tue Sep 25, 2012 10:29 am
---
InstaForex is Serving Over 1,000,000!

Insta

Forex
Company is happy to announce that the number of company's clients reached a landmark figure! Now more than 1,000,000clients prefer
Insta

Forex
to other companies!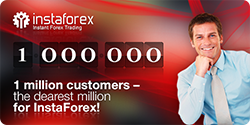 Due to our partners and clients' dedication we always keep abreast of the times. We do everything to make your cooperation with
Insta

Forex
comfortable and fruitful. A wide range of services of high-level, trading experts, and individual approach help us to be on top of brokerage services market. Up-to-dated informational technologies, reliability, comfortable and qualified servicing allow
Insta

Forex
to create all the necessary conditions for beneficial work of both newcomers and seasoned traders.
Success and confidence of our clients are of great importance for
Insta

Forex
. That is why we are interested in amicable collaboration based on mutual trust, honesty and commitment to reach the desired goals.
Thank you for choosing us!
Posts: 7
Joined: Tue Sep 25, 2012 10:29 am
---
---
Return to Forums for Forex Brokers
Who is online on Forum
Registered users: Baidu [Spider], Bing [Bot], FXTechstrategy, Google [Bot], Majestic-12 [Bot], MikhailLF, riki143, SuperForex, TifiaFX, Yahoo [Bot]